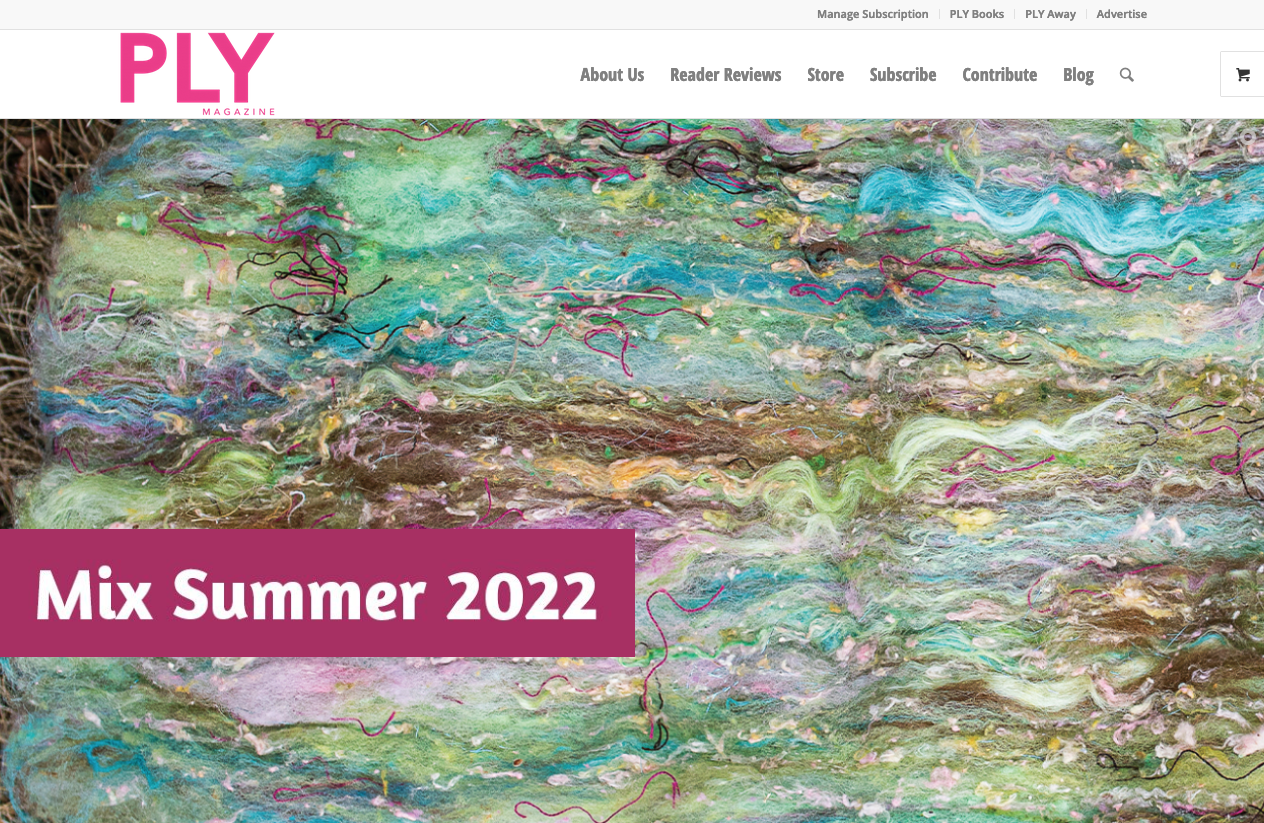 The Problem
PLY Magazine is a quarterly periodical geared toward the handspinning community. It began as a Kickstarter campaign, and its purpose is to serve as a kind of encyclopedia of spinning knowledge. PLY differs from other spinning magazines by limiting advertising space, and focusing on quality, from the writers to the photographers, to the paper used.
The owner of PLY magazine reached out to me to redesign her website. They had outgrown their old site and wanted a site that could handle the growth of the magazine.
They were specifically looking for:
A site that was easy to

maintain

Increase subscription and individual issue sales

Information for advertisers, including specs and pricing
The ability to have Online Ad Space to raise revenue for the magazine
Have a blog
The Solution
Through the research and interview process, we were able to determine pain points with their current site and identify the things that needed to be improved on the future site.
Improve navigation by incorporating a clearer visual hierarchy
Created an e-commerce shop
Gave them the ability to have a multi-author blog
Provided a way for them to easily update the website (WordPress)
Allowed advertisers the ability to upload and manage their own ads
Get to know the users
The owner had a general idea of who the users of the were because the handspinning community is a niche group.  To learn more I interviewed the owner of the company, spinners who subscribed to the magazine, and spinners who did not subscribe. Through these interviews, I was able to determine what was important to the magazine, who the users were, and what was important to them.
I came up with the following (abbreviated from the original) personas to represent those users: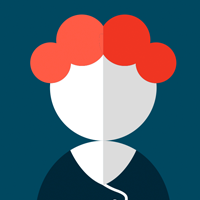 Anneliese
Independent Business Owner – Tech Savvy
Anneliese recently opened her own yarn store and carries spinning materials.  She offers spinning classes to the public and once a month hosts the local spinning guild.  She wants to reach out to the spinning community to let them know about her store and the spinning products available.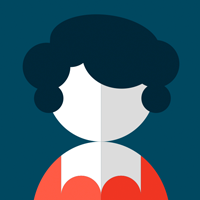 Jen
Beginning Spinner – Tech Savvy
Although Jen has been spinning for a couple years, she still considers herself a beginner.  She only knows how to spin using a forward draw and would like to expand her skill set to create a different type of yarn. She wants to find an advanced resource to learn new techniques.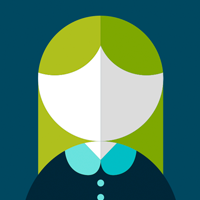 Martha
Advanced Spinner – Not Tech Savvy
Martha is an advanced spinner, and regularly teaches classes at festivals. She has written a book on spinning techniques and wants to learn how to teach people online.  She wants to find another opportunity to write and is interested in reading what others are doing in the craft.
Brainstorm, and Competitor Review
At this point, I looked at other spinning magazines and noted the taxonomy and features being used.  From there I started to sketch and brainstorm initial categories and features that I wanted to include in the new PLY website.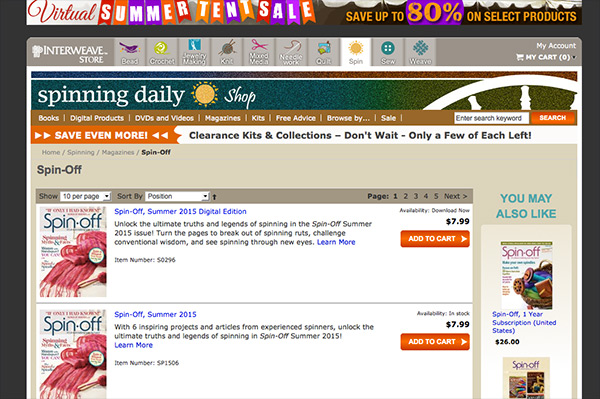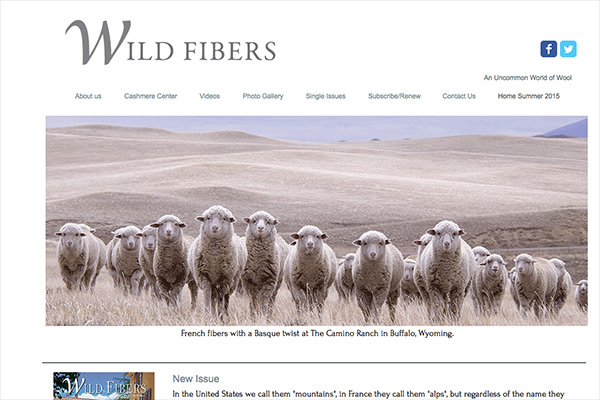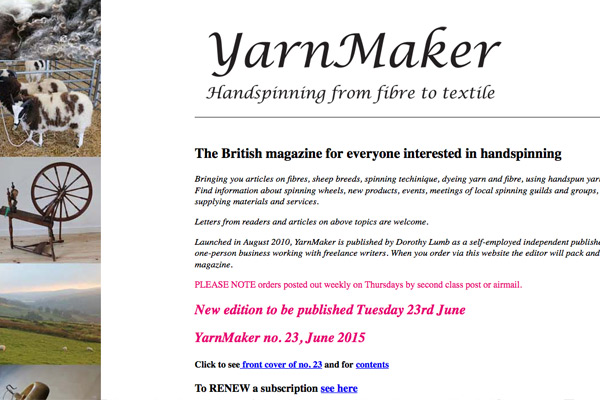 Content Inventory, Site Map, Wireframes and Testing
From there I performed a content inventory of the current site and created a new sitemap to restructure the current and additional content.  The sitemap was reviewed by the owner, who had some changes before it was tested.

I tested the architecture by creating scenarios and conducted one on one interviews to make sure that the new architecture was intuitive for them and if they had trouble finding anything.  Some of the tasks were:
Purchase a year's subscription to PLY magazine
Buy two single issues of PLY magazine
Find more information about writing for PLY magazine
Learn more about the magazine, and the current issue
Element Collages, and Visual Design
Getting some guidance from the owner of PLY, I came up with 3 different element collages to allow her to get an idea of what the colors, fonts, and visual elements would look like. Together a decision was made on the direction they wanted to go, and then I began to search for WordPress templates that would work with our design plan.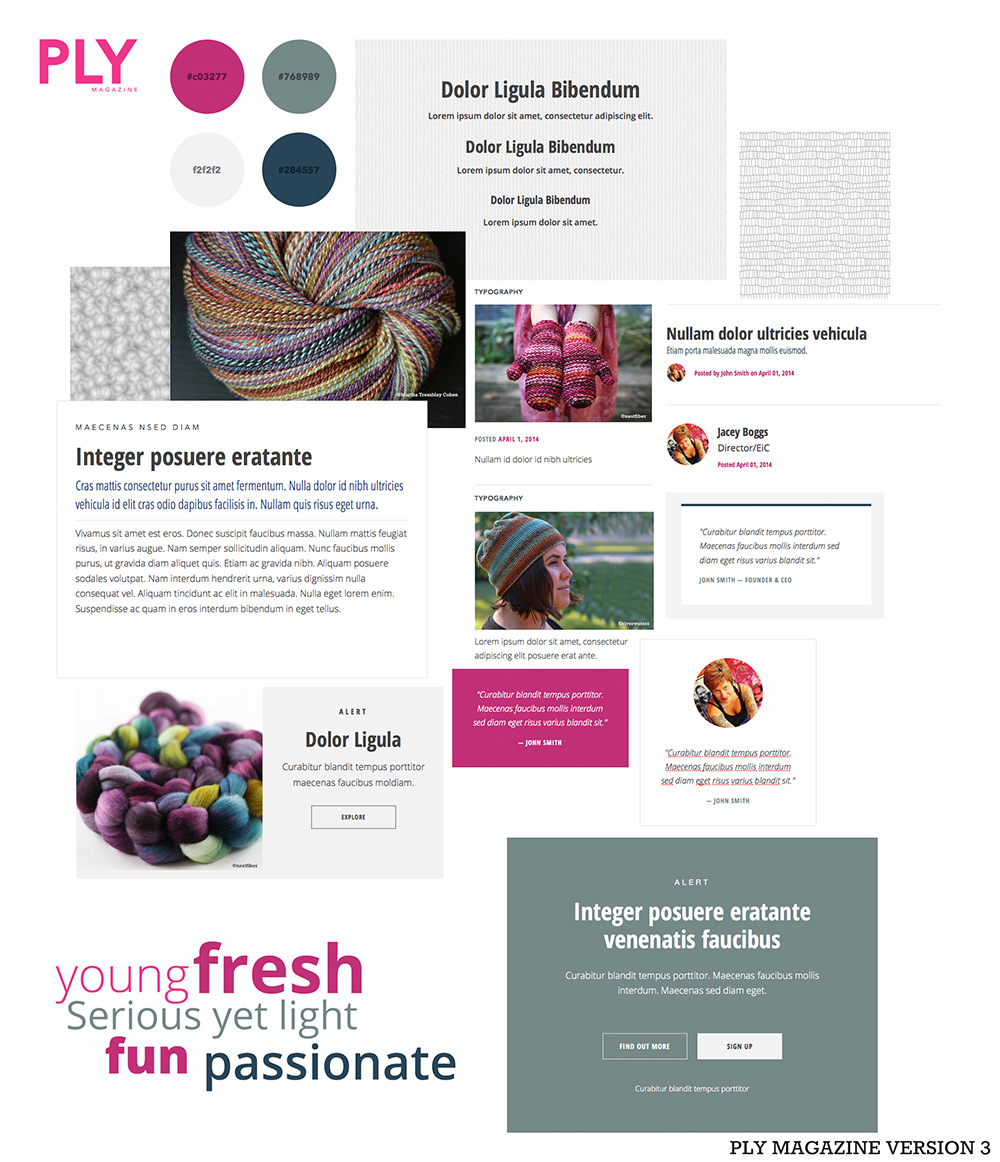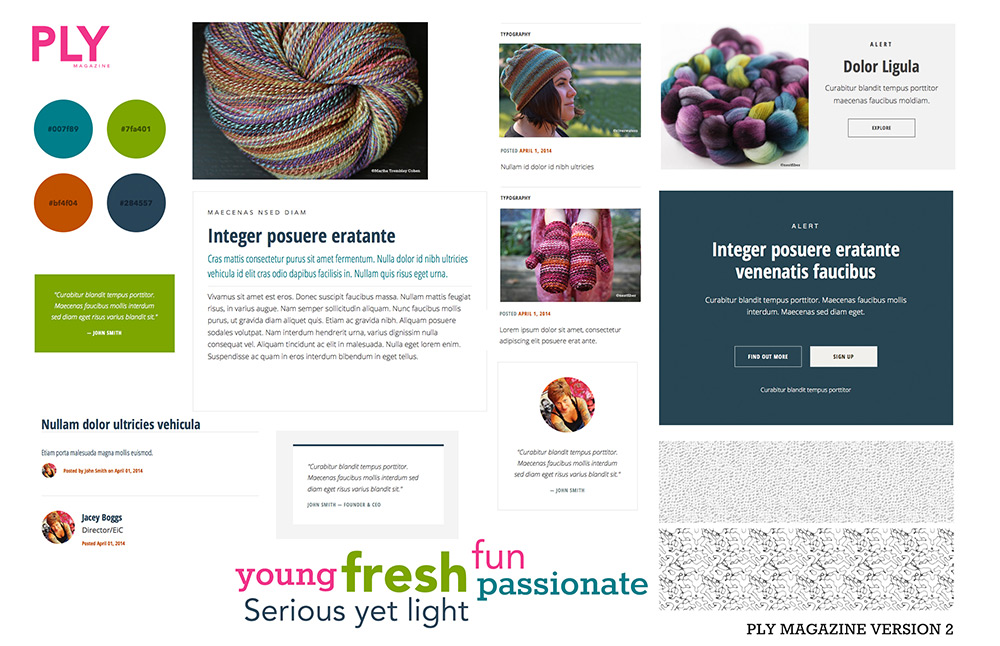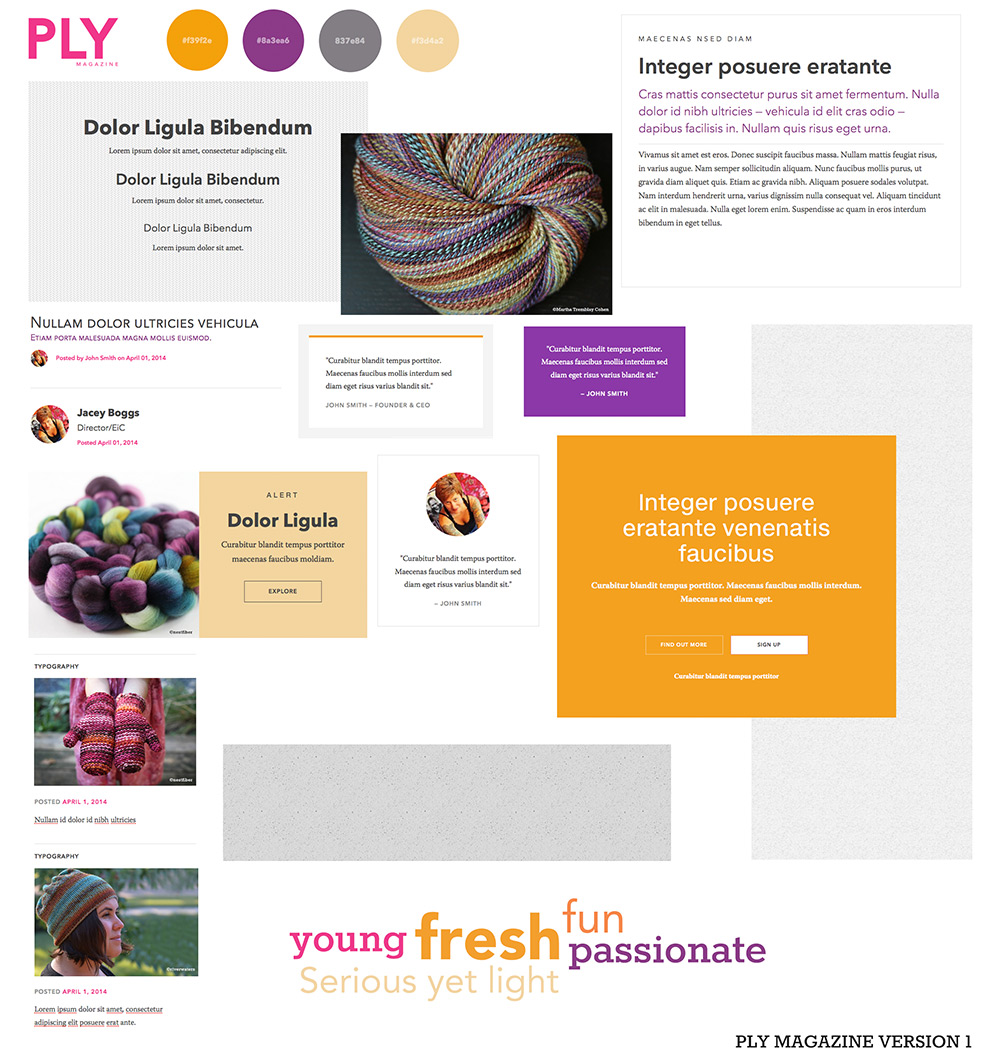 Using the wireframes as guidance, I started to work on visual design of the site, customizing it to make it reflect the element collage that was chosen.  The final design is shown below.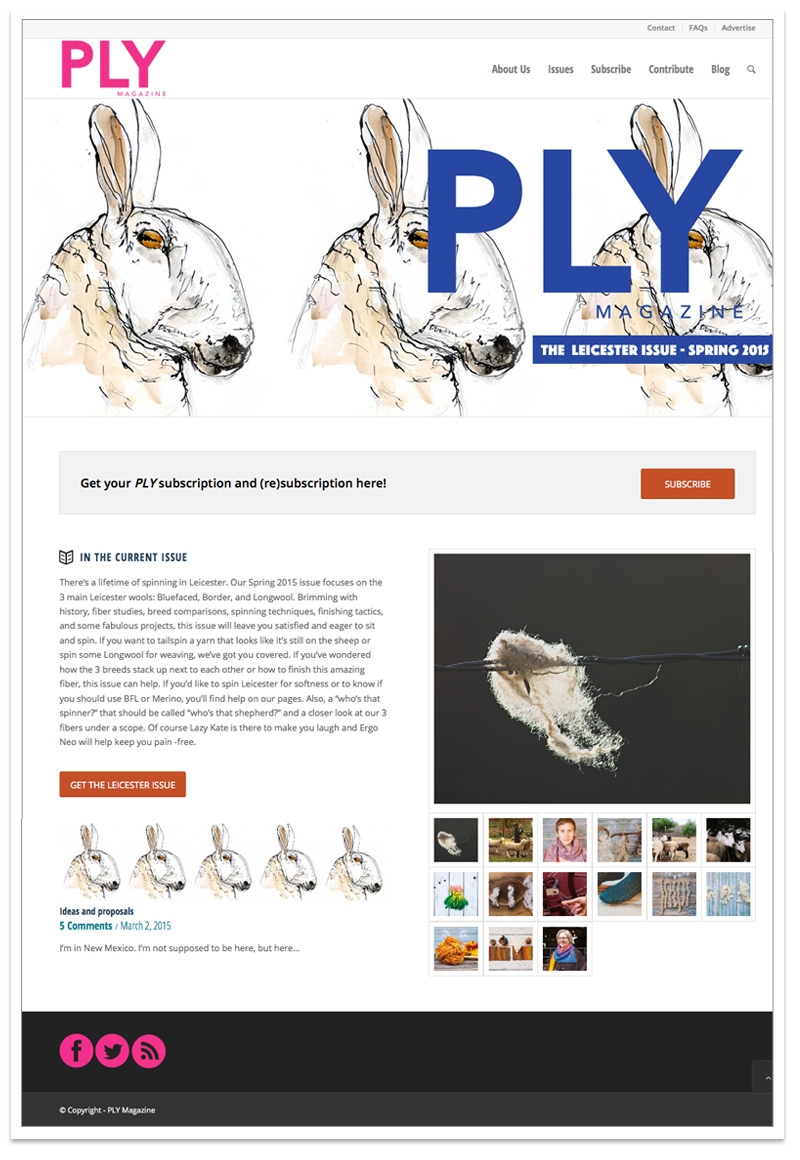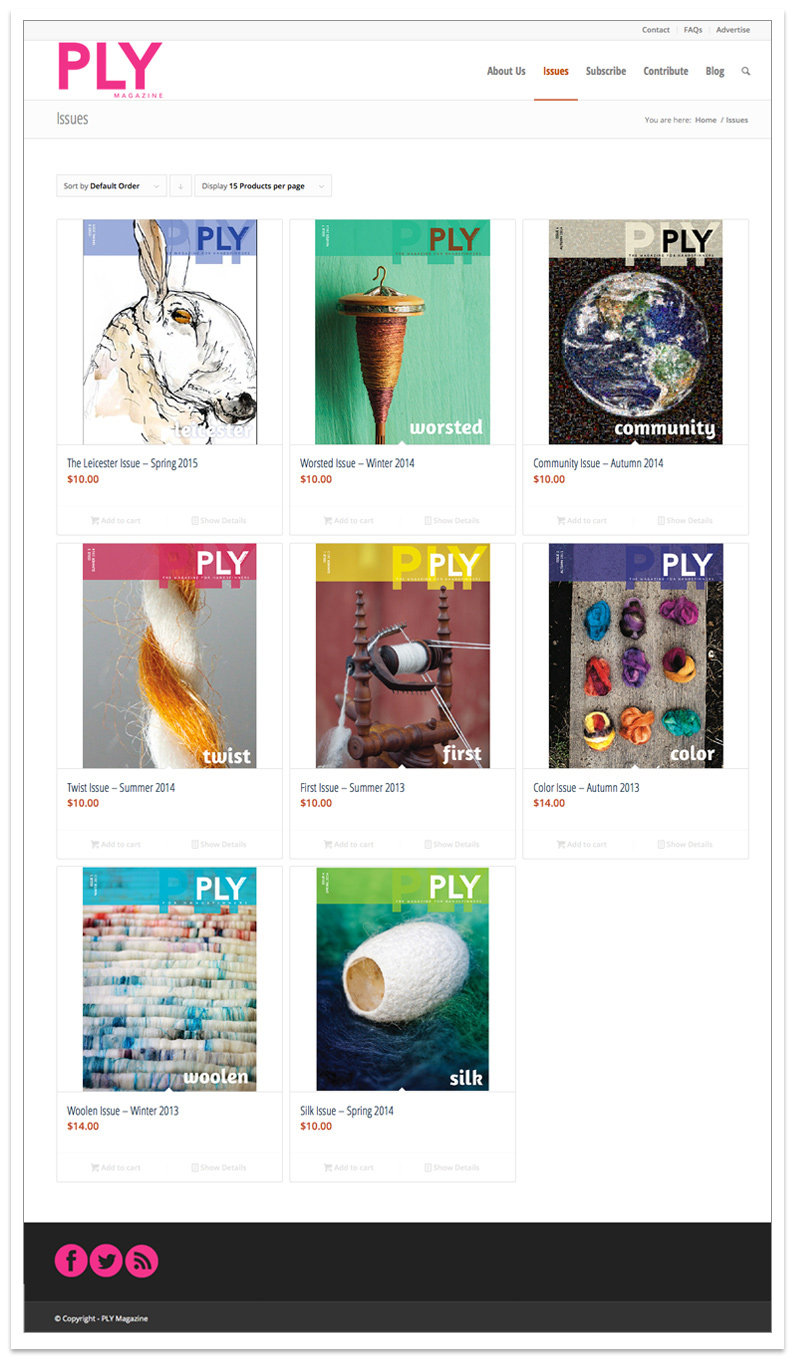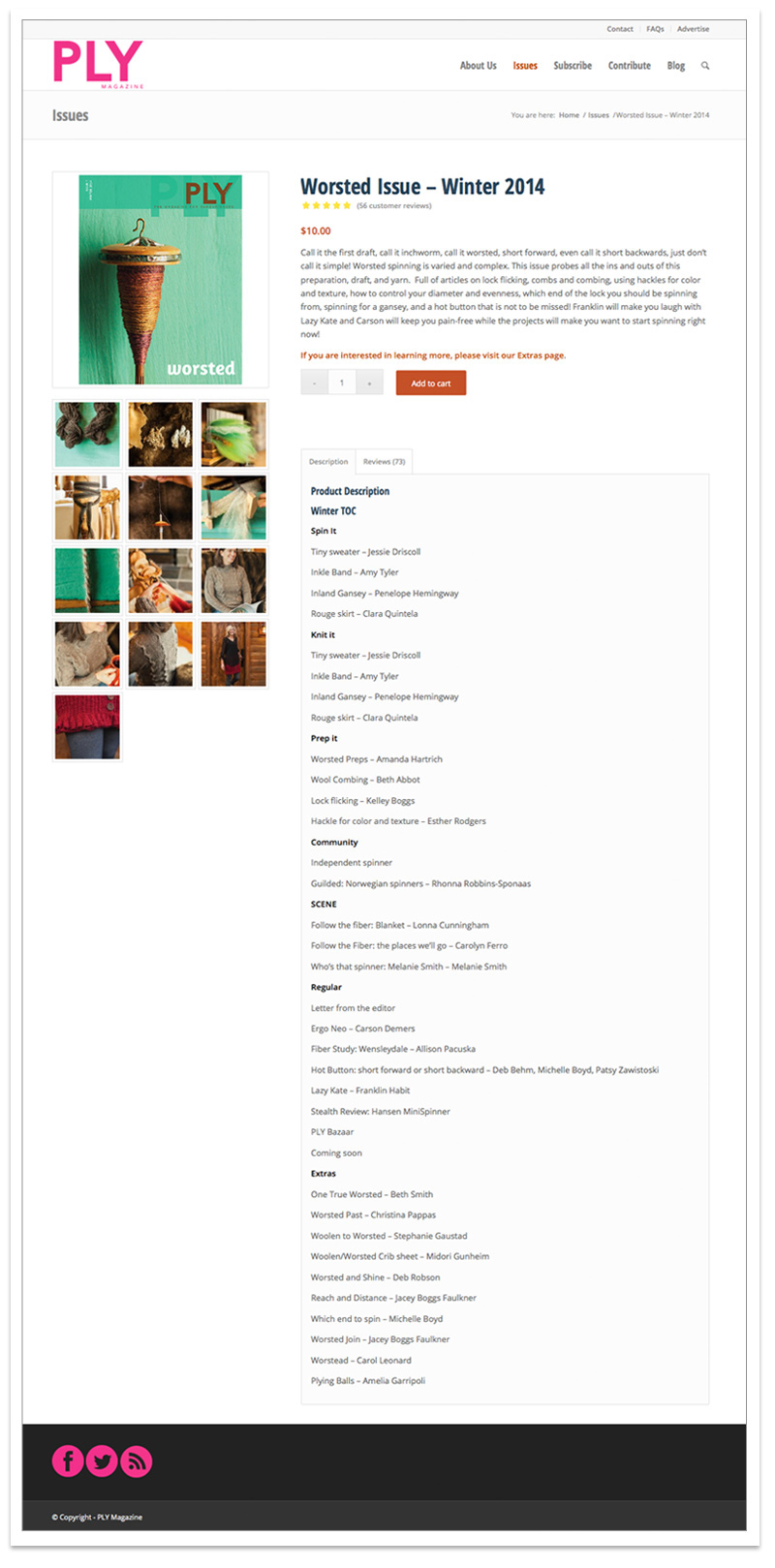 Content Import, E-commerce development, Quality Assurance and Testing
For the final phase of the project, any existing content was imported, new content that was needed for the site.
I then began to build the storefront, creating issue product pages, setting up shipping and working with third-party vendors for ad management and handling the subscription management.
After checking content and links, the site was tested one final time before launch.  The site launched in June 2014 and I continue to work for PLY as the Website Manager/User Experience designer.